The English Theatre is happy to announce on demand streaming for the repertoire hit MOONLIGHT AND MAGNOLIAS!
For a limited time only you will be able to enjoy this play from the comfort of your own home! Don't miss out!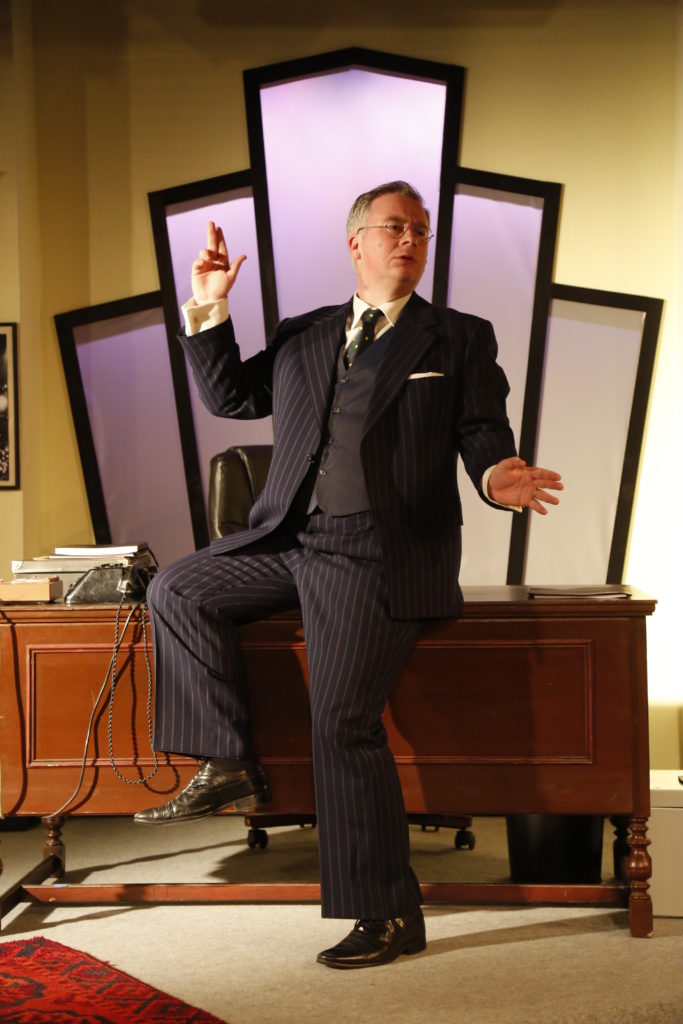 Hollywood, 1939. The iconic movie Gone With the Wind (based on Margaret Mitchell's best-selling novel) is in full production. But producer David O. Selznick hates the script as well as the direction. So he calls screenwriter Ben Hecht and director Victor Fleming into his office, locks the doors, and demands that the three of them come up with a new screenplay in five days. With conflicting opinions at every turn, and under enormous pressure, the men resort to acting out scenes from the novel themselves in order to create the dialogue for the new script. They bicker and shout, hurl peanuts and insults at each other. They practically come to fisticuffs over what became some of the most memorable moments in the film. This hilarious comedy, though based on real circumstances, is an imaginative account of the creation of one of the most popular movies of all time.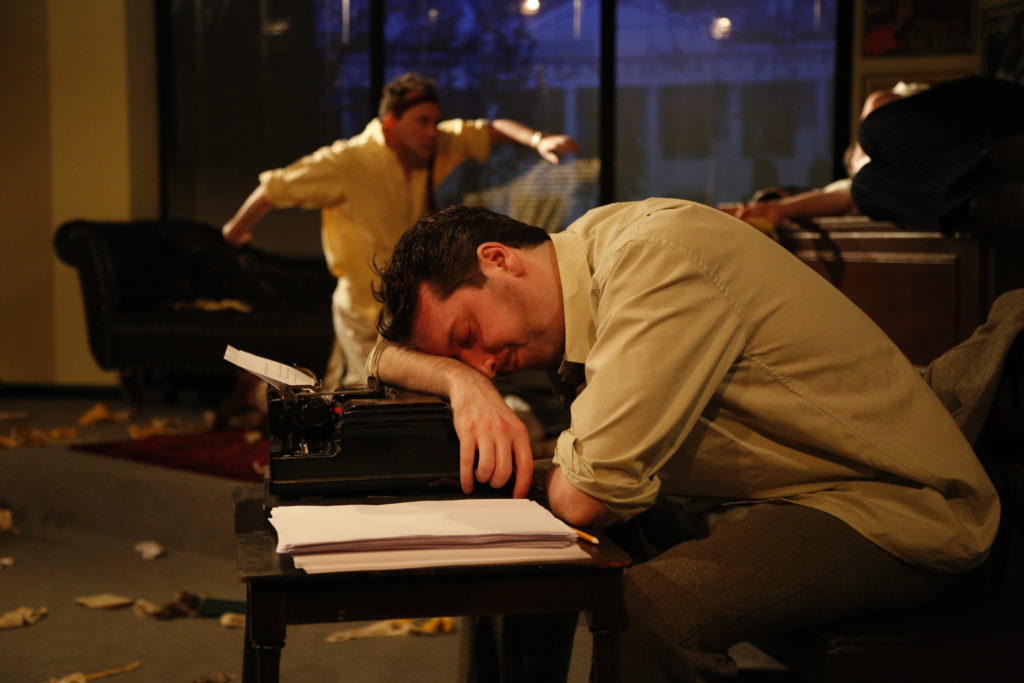 CAST
DAVID O. SELZNICK – Rory Murphy
BEN HECHT – Tom Dunlea
VICTOR FLEMING – Edwin Flay
MISS POPPENGUHL – Clara Aileen Bowen
CREATIVE TEAM
Direction – Paul Glaser
Set Design – Mathias Wardeck
Costume Design – Patricia Royo
Lighting & Sound – Heiko Böttner
Properties/Stage Management – Rebecca Delmas
Properties/Stage Managemant – Bianca Maes
Set Design Assistant – René Ahnert
Hairstyling – Birgit Wolf
Music Supervision – Paul Glaser
London Casting – Gordon Griffin MBE
MOONLIGHT AND MAGNOLIAS is presented by special arrangement with Judy Daish Associates Ltd., London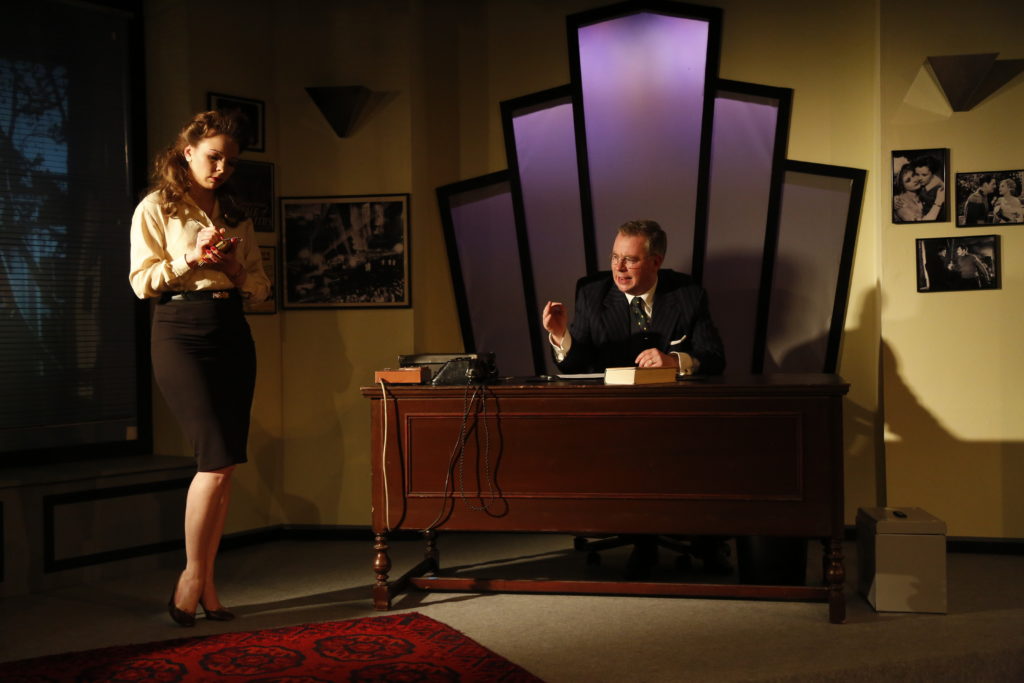 ABOUT THE PLAYWRIGHT
Ron Hutchinson was born in Ireland in 1947, but raised and educated in Coventry, England. He began his career in the UK, but by the late 1980s he was working in American television. A prolific writer, he is known for many of his screenplays as well as radio dramas. He has also produced some twenty stage plays, among them MOONLIGHT AND MAGNOLIAS which was first performed at the Goodman Theatre in Chicago, Illinois. It was nominated for the 2004 Joseph Jefferson Award for New Work. In an interview with David G. Anderson of The Utah Shakespeare Festival, Hutchinson said, "The inspiration for MOONLIGHT came when…I was reading…the autobiography of Ben Hecht's exhausting week of rewriting GONE WITH THE WIND, and…it struck me, wow – this is classical farce. Three high-powered individuals lock themselves in a room existing on peanuts and bananas, and they are ever mindful that the clock is ticking, in a total pressure cooker situation." Hutchinson added that he drew from his own experience as a screen writer: "I've been all around the world in closed hotel rooms from Libya, to Morocco, to Mexico hammering out new scripts with ulcer ridden, catatonic producers ever present…The pressure is immense, there is craziness all around, but somehow you hammer it out. I enjoy the challange and fun of it. "He sees MOONLIGHT AND MAGNOLIAS as "a celebration…of film's golden age of writers, directors, and producers. "Some of Ron Hutchinson's other plays include THE IRISH PLAY (1984), PYGMIES IN THE RUINS (1991), BEAU BRUMMELL (2001), TOPLESS MUM IN DEAD HERO SHOCKER!! (2007) and DEAD ON HER FEET (2012). The many television and movie screenplays he has written add to this impressive body of work. He now lives in Los Angeles, California with his second wife and adopted daughter.